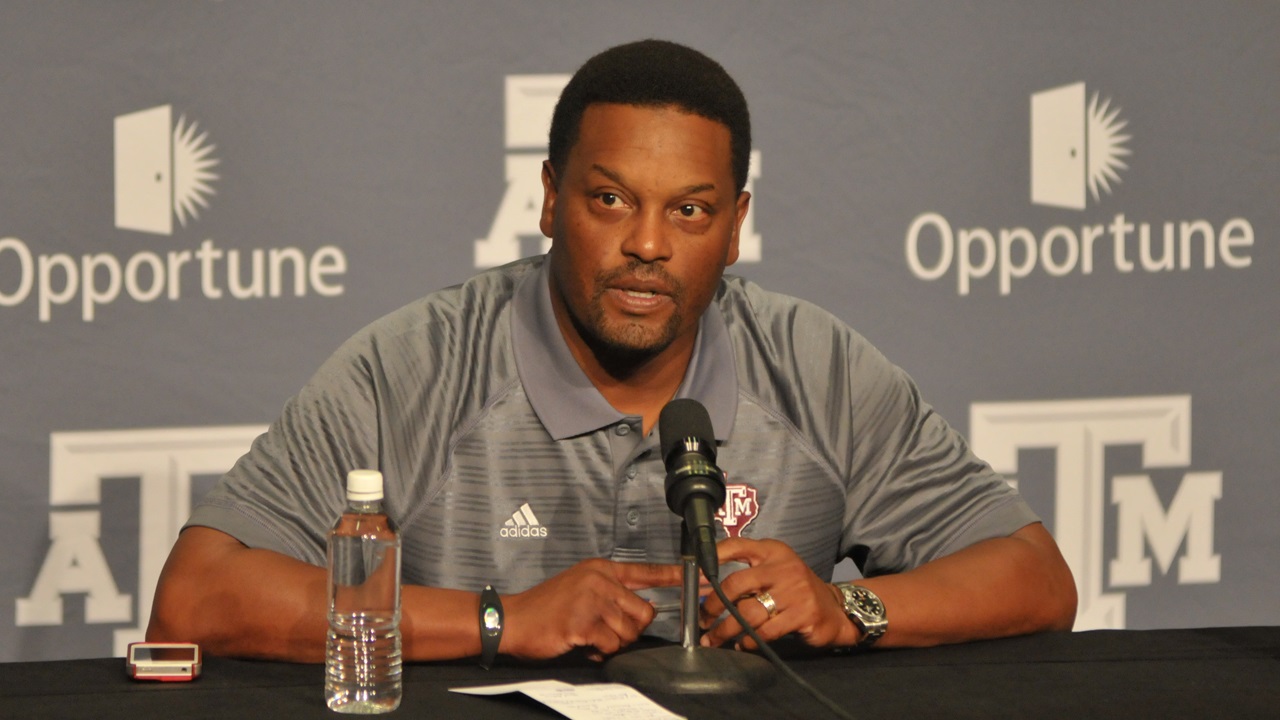 Kevin Sumlin
Clarence McKinney
Mark Snyder
Ben Malena
Mike Matthews
Julien Obioha
Toney Hurd, Jr.
Texas A&M Football
Aggies discuss Rice in first weekly press conference
---
Kevin Sumlin

Opening statement...
"Good afternoon. Just like everybody else in the country, we're excited, our kids are excited, team's excited, fans, everybody, to finally play. Guys work extremely hard, particularly down here in this part of the country, battling the heat. It's time for this team to come together. Larry Jackson did an excellent job with this football team during the summer. He handed us a group of guys who were in great physical condition and really started to mold them mentally and developed some mental toughness for this football team.
"That's important because we signed 32 players and lost one to the Minnesota Twins, so we've got 31 newcomers on this roster. So more than a third of our football team is brand new. What Larry Jackson did this summer is critical to our season because a lot of these guys will have to play critical minutes for us. Fans will have to buy a flip card because there'll be a lot of new guys out there.
"It'll be a challenge. Rice is a team that returns 23 seniors, all five starting linemen, a fifth-year quarterback. A lot of guys back on defense. They started the year with nine of 11 back on defense. A very veteran football team, well-coached. Everybody knows my relationship with David Bailiff. We go back before we were head coaches. Prideful team, prideful program. They're coming off a bowl win last season. They'll challenge as one of the better teams in Conference USA. They'll come in here ready to go.
"They're the opposite of our football team, a veteran team that's played together and has pieces in place. We're still trying to find out who we are. The good news is it's a talented group of young guys. Because of that, as coaches, particularly at the collegiate level, you'll battle some of that every year. We'll know more about our team across the board after Saturday than we do right now."
Q: How pleased have you been with the backup QBs' preparation?
Sumlin:
"If you go back through all of camp, you really have Matt Joeckel, who's taken 11 snaps in his career, Kenny, who just got here, and Johnny taking a majority of the snaps. Everybody can read into Matt Davis leaving a week ago, it was pretty obvious that the snap ratio changed at that point to those three guys. A decision had to be made. You can't rep four guys.
"That is still an ongoing competition. What we've done in the past and how we've trained quarterbacks, we've been successful doing that. We rotate snaps with the first team. It gives your team a chance to develop camaraderie with the first unit if something happens. I've been pleased with their progress. I've been pleased with all the quarterbacks' progress this camp. The key to it has been the new guys on the perimeter. We've got a really solid offensive line, which takes pressure off of Matt and Kenny. And when Johnny's in there, he's trying to help the perimeter guys.
"Our offensive line gives us an opportunity to rotate those quarterbacks and have them be covered."
Q: How do you balance the needs of the player vs. the needs of the team?

Sumlin:
"There's never been a question. I think it's different as a football coach. Football is the ultimate team sport. There's 11 guys on the field at one time and in every play there's an arrow pointing to score. If one of those guys doesn't do his job, you're probably not going to be successful. You have to balance that. But there's nothing more important than the team.
"We sit in this room all the time and talk about the truth and what we expect on the field, off the field and effort-wise and accountability-wise and being able to trust each other. A lot of that never gets out. Just like a family, a lot of things that are said in this room as a football team don't get out, aren't supposed to get out, just like it would in your house. That gives us an opportunity to trust each other and maximize our team's ability and our individual players' ability because they know we don't have an agenda. The best players play. If you can perform on the field and in practice consistently, you're going to play whether you've been here five years or five days.
"That eliminates the bickering and a lot of things that happen in the locker room. The individual, at that point, understands what's important. What's important is his value to the team and how he helps our team win."
Q: How much faster does a year of conditioning help things go?

Sumlin:
"I think everybody thought I was joking last year about what a difference a S&C program like we have can make. You've got to have some luck, but you've also got to have a plan in place to develop that sort of physical toughness, endurance and style of play. Looking back to last year, there's no question that made a difference last year with the lack of depth we had.
"I'm a firm believer that that physical toughness, that physical endurance, bleeds over into mental toughness. It has a huge effect on our program and enables to us to be able to do some things during two-a-days, instead of getting guys in shape and worrying about that. We're in the teaching process; there's no question Larry Jackson and his staff give us the ability to do that."
Q: Talk about your O-line consistency.

Sumlin:
"I hope that's the case forever, that we can lose a top pick and be fine. That means we're heading somewhere. There's really three parts to this: The recruiting phase, which, obviously, Coach Sherman did a great job of going out and evaluating offensive linemen; the second phase is the developmental phase, which gets back to your question about strength and conditioning — how do you train those guys, what are you looking for? The third is coaching. Having a coach that can give them the techniques they need to get better.
"All those things work hand in hand. That's what you strive to do across the board in your program, to recruit, develop and coach players that have the ability to really play at that level. All three things go hand in hand and, when you get them going together, which I think we do, at certain positions across the board that gives you a chance to be successful in any program."
Q: How vital was Ben Malena's offseason to you as a program?

Sumlin:
"Ben has been a guy who has been a leader for us pre-senior year. Last year he was on all special teams, really a controversial deal when he played ahead of Christine Michael. He accepted that role. To me, he's been a leader by example up until this offseason.
"We've had discussions about him stepping out and becoming more of a vocal leader. He's already led the team by example. He's a guy people will follow because of what he's done on the field. We don't have a bunch of seniors but we do have talented young players. Leadership starts with the coaches but real leadership comes from the locker room also. Guys that are in there day-by-day to tell them, 'Listen, here's how we won games — not just playing it, but during the week, during camp, how we approach it,' that's very important and Ben's become a big part of it."
Q: Which game will Deshazor and Floyd be suspended for?

Sumlin:
"It's the Rice game. The depth chart came out last week. About as accurate as everybody else's."
Q: Given the Aggie Code of Honor, what is your decision to name Johnny Manziel your starter saying about your belief in his honesty?

Sumlin:
"I think we just covered that earlier. You're asking me about the decision for Johnny to play and we're not discussing that. I thought we went over that from the beginning. I can't talk about how that decision's going to be made and what goes into that decision. I said from day one, the first day, that there are a lot of people involved in that decision. What goes into that, I can't discuss."
Q: Do you think football's been a refuge for Johnny?

Sumlin:
"I know he likes to play football. The structure he's had since August 4 has done nothing but help him. When you're inside of the situation — this sounds hard to believe, but I was just talking to my dad; he gets a lot more news than we do because we're not watching television. Kids come in here to eat and we've got two-a-day practices. They're in this building until 9:00 or 10:00 at night. They're probably tired when they get home. They're pretty regimented.
"Outside there's probably more access to the news than these guys (have). The structure, from practice to eating to lifting to bed, I've been pleased with the energy and the focus in practice, not just from Johnny but from our whole football team. What it comes down to is that we have a plan as a football team and I have a plan as a coach. We live in a different world. For a lot of people, things are rigid all the time. You know what's going to happen. As a coach, I can't tell you how many times we've had to make game-time decisions. Last year guys started and played football games that you didn't know there was a possibility they weren't going to play.
"We have a plan for that. We're working a plan for all these situations, not just quarterback."
Q: Do you anticipate any true freshman starters this week?

Sumlin:
"Did David Bailiff send you? (Laughter.) We'll play, of those 31 newcomers, I wouldn't be shocked to see double-digits playing this whole season. Maybe as high as 15, which tells you where we are depth-wise. Certainly at least 10. Special teams will give them a great opportunity to get on the field and give some of our older players the chance to not be covering every kick. Last year some guys played 100-something snaps at LaTech. Sean Porter and J-Stew were covering kickoffs and punt team. We didn't have anybody.
"Now we've got young talent, young guys, but we've got to get them game ready. Expect to see the young linebackers, Claiborne, Mastrogiovanni, on special teams. The safeties like Washington (will be) back there as well. We signed a bunch of wide receivers because we don't have depth there. We have three primary guys coming back in Malcome Kennedy, Mike Evans and Derel Walker has seen some time, but we've got to have depth there. So those guys will see some time. Along with Cameron Clear, a newcomer who will have a definite impact on our program as a tight end. If you're a fan, get a program. There'll be some new faces."
Q: Was there a temptation to redshirt Mike Matthews last year?

Sumlin:
"Redshirting is a philosophy. We had a discussion this morning about guys who will play, guys who won't. At certain positions, it's better — we knew Pat was leaving — I'd much rather have Mike get experience playing, practicing with the team, so starting this year it wouldn't be completely new to him. He'd have an idea of what the pressure is like to prepare and what the pressure is like to play in the SEC. He played a lot of games last year and had to be ready to be the next man up if something happened to Pat. It took some pressure off him. Now he's ready. We'd rather have a guy who's a possible three-year starter at center with experience than a guy who starts four years with no experience.
"Very rarely are you able to do that at a position like center. He was undersized but now he's worked his way up to 280, 285. That's our redshirting philosophy. We had that discussion with a number of players. How do you get better? Practicing and being in the weight room? Or by playing and preparing every week and dealing with the mental pressure that goes along with having to be prepared to go in the game at any time?
"We've got a number of players who are right there right now. We're making that decision this week. That's the way we made the decision with Mike."
Q: Can you describe the unique challenges of this offseason?

Sumlin:
"The increase in attention has been, in some ways, great. I'm very fortunate to be the head football coach at Texas A&M. All the things that go along with that ... I realize where we are; playing in the SEC brings about a lot of enthusiasm from our fan base and across the country. We've worked very hard in the last 18 months to get this program to be relevant and play in relevant and meaningful games on the big stage. All that comes along with it. The management of that is what you want as a coach.
"Some of the other issues that have come up, you hope those don't happen, but when they do it's your job to get them fixed and move on. Our focus right now is getting ready to play Rice. Our approach last year, which might sound like coach-speak but is the only way I know how to do it, is to go 1-0 this week, reset and go 1-0 next week. The way guys who may or may not be starting have to prepare to be able to play, we depend on each other.
"Your question is a two-part question. The excitement has been there from the beginning. The internal stuff is probably a lot different than what is being said outside. I'm proud of how our guys have handled it."
Clarence McKinney
Q: How do you call a game differently after seeing the backup QBs?

McKinney:
"We call it the same. Our offense is our offense. Those guys have been in it. We've given them the playbook and we're going to call the plays that we think will work."
Q: What specifically have you seen in Trey Williams' development?

McKinney:
"His biggest improvement is his pass protection. That was one thing that held him back last year. When he has the ball in his hands, he's dynamic. (But) his biggest improvement has definitely been his ability to pick up blitzes and protect the quarterback."
Q: How likely are the freshmen WRs looking to play?

McKinney:
"Not really sure, but a guy like Ricky Seals-Jones, we expect him to play some. Laquvionte has a chance to play some, some special teams. The other guys have been coming along. There's a chance you'll see all six of them this year."
Q: Do you care about the national murmurs?

McKinney:
"Not really. They said a lot of bad things about us all of last year. Our job is to get the guys ready to play. They'll play hard and put a quality product on the field."
Q: What's your philosophy in play-calling?

McKinney:
"I've called plays before. The good thing about my position right now is we have a lot of weapons. You put those guys on the field and give your weapons the ball. It makes it easier when you have those guys who can do things with the ball. We'll find out here pretty quick."
Q: Will Brandon Williams play extensively on Saturday?

McKinney:
"I wouldn't expect to see a lot from Brandon on Saturday. Those other three guys have been working extremely hard this fall camp and I expect to see a lot of them this weekend. Hopefully we can get Brandon back soon."
Q: What's the dynamic of having two Matthewses like?

McKinney:
"I'm very grateful to have Mike Matthews here because if he weren't, Jake Matthews may not be here (laughter). He'll be a good leader for us and I'm definitely glad to have them as a part of this program."
Q: What will your formations look like this season?

McKinney:
"We play an eight-man rotation with four wides and each guy has a backup. You can't expect one guy to be at his best for 90 straight plays. We expect all of those guys to play."
Q: What are your thoughts on the veteran WRs?

McKinney:
"We definitely feel like Derel Walker is a much better receiver this year than he was last year. He got here that first spring and had some injuries and didn't quite learn the offense as we thought he would, but he's done a tremendous job this offseason. We're looking forward to having him out there running around, as well as Sabian Holmes. He's in a position vacated by Kenric McNeal. We're expecting good things from him; he's had a pretty good camp.
"Malcome Kennedy had big plays and big catches for us last year and we feel he's made big strides and become a leader of that group. You know what Mike Evans did last year but we feel he's a better receiver this year than he was last year."
Q: What do you notice about the Rice defense?

McKinney:
"They play hard. One of the biggst things you see when you turn the film on is every kid on that defense is running to the ball and giving everything they have. We want to be able to match that intensity."
Q: How are the Matthews brothers' personalities?

McKinney:
"They are with them a lot more than I am off the field, but when we're on the sideline kidding around, Mike is definitely the clown of the group. Jake's quiet. Mike's definitely the comedian."
Q: How quickly will the young receivers adjust?

McKinney:
"We brought them in to play and they need to learn how to play at this level. They won't be where we want them to be right away ... but they're talented and sometimes talent can help you overcome things. Hopefully they'll learn the system and catch some balls for us."
Q: How did it help having Kenny Hill with experience in this type of offense?

McKinney:
"He's talented. He was Gatorade player of the state, a dual-threat guy. A lot of what they did at Southlake Carroll, a lot of Texas high schools are going to a similar offense like what we run. The operation of it is something he's familiar with."
Mark Snyder
Q: Do you have a number in mind of which newcomers will play in game 1?

Snyder:
"We have about 12 of them on our side of the ball. Pretty big number. We've got guys who showed some stuff but until you get on Kyle Field, you don't know. That's what Saturday will be about for us."
Q: Are you more comfortable this year with what you've got?

Snyder:
"At this point I'm a lot more comfortable. We know what we've got with that first group going in. The unknown is the young guys. It'll be exciting to get their feet wet and see how they respond on the big stage."
Q: What's your assessment of the young LBs?

Snyder:
"I like all three of them. Tommy can really run and I've been so impressed with Jordan Mastrogiovanni. And Darian Claiborne is just a football player. To be so young, he understands what we're doing. Same with Jordan. I'm pleased with all three of those guys."
Q: How will you compensate for Floyd and Deshazor's suspension?

Snyder:
"We'll rotate a bunch of corners with Deshazor being out. I've been very surprised with Clay Honeycutt. He's our Howard Matthews story — sitting here this time last year, Howard wasn't even in our thoughts, but he played well down the stretch and continued that into spring ball and the fall. Clay will do the same thing. He's shown stuff he hasn't done before, and that's part of the maturation process. He'll do good things for us this fall."
Q: How do you prepare to defend Rice?

Snyder:
"They've got capable quarterbacks and an offensive line that does exactly what their coach wants them to do. It'll be a challenge for us. But you get as your work deserves and our kids have worked really hard. It's going to be fun and really scary."
Q: Is this your youngest defense?

Snyder:
"We've had to scale back a bit, but unfortunately the first game is a game of unknowns. Rice lost three good tight ends, will they use tight ends again? I don't know. We've scaled back a bit, but we'll see if things change and how they approach the game come Saturday."
Q: How much will you count on Obioha?

Snyder:
"He's not a young guy anymore, he played in 12 games last year. He's been on the big stage. As I look at all the (freshmen) on this list, he has to be that guy for us. We kept him out for the scrimmage and he was on me the whole time saying, 'Coach, you can't make that call.' That's Julien. The good thing about that is he'll be able to anticipate things in the game for me and articulate that to the youngsters."
Q: What leaders have you seen on defense?

Snyder:
"It's coming. Julien brings a lot of energy, Clay's trying to lead a bit, Howard's doing good, Toney Hurd's always an energizer bunnie, Donnie Baggs has done a bit. Nobody's talking about Alonzo Williams. The Taylor twins have had a great camp. We might not be as far off as most predict. We'll see."
Q: How will the weather affect the young guys on Saturday?

Snyder:
"Here's what I see: You guys have been at practice ... it's been hot. What Larry Jackson and his staff have done, it's uncanny. It's been 104, 106 and we run so many plays, so fast at practice. We haven't had a medical issue yet. The guys don't know how to practice at this tempo, at this level yet, and I've really seen it the last two weeks coming on. I'm not worried about it."
Q: How much are you putting on Nate Askew?

Snyder:
"A lot's on Nate's plate. It'll be interesting to see him on that side of the ball on Saturday. We'll have Shaan Washington ready to go on Saturday. If things don't go as planned, Shaan will be in there. We've told Nate he has to cover, tackle, all the things people have to do. It doesn't matter that he came over from offense because he has a freshman right there waiting to take the job. If you can't tell I've got a lot to watch in the first quarter on Saturday."
Q: Is this one of the more athletic bunches you've had?

Snyder:
"By far, without a doubt, if we get people in certain situations, we can put a lot — a LOT — of speed on the field, more than we had last year by far. And some fresh bodies, which we couldn't do last year."
Q: Where do you think the group might be as far as creating turnovers?

Snyder:
"Fumbles, creating fumbles. We had some big interceptions. Taking the football away is the who-what-when-where-how stage. There's so many guys getting lined up, that's on the older guys to get angry and get there and take the ball away. That'll come as the season goes on because these guys are just getting lined up and asking 'What's my key, what's my target.' Then's getting to the football, then there's the strips. We'll see. We'll have to match the production we lost from last year. Who are the guys who are going to match that production. Do I have to do it with my calls, or are you guys going to do it?"
Q: Do you like the defensive underdog role?

Snyder:
"It doesn't bother me. I don't look at those. I know what we have. Talk is cheap, we've got to go prove it. I don't get caught up in that."
Q: What are some of the unique challenges Rice throws at you?

Snyder:
"Veteran offensive team. They've got guys who have been playing together. Their whole arsenal is available on game 1. We might have to tailor ours back because of the young kids. They can make adjustments, say things like, 'If they do this, we counter with this.' We're not quite there yet. It's scary for me, knowing David and his offensive staff, they have brilliant football minds. That concerns me. They'll be making more adjustments than maybe we will. Our challenge to the kids is play fast and run to the ball."
Ben Malena

Q: How good is the chemistry of the team?

Malena:
"Better than ever. We have a huge head start on what we had last year. The team chemistry on the offensive side of the ball is great. Mike Matthews has done a great job stepping in at center and taking over for Patrick Lewis. Our quarterback and wide receivers have really good chemistry. This year's group on the offensive side of the ball will be a fun group to watch."
Q: How do you view the attention the program is receiving now compared to last year?

Malena:
"It's a bit different. When you have a great program and a great team, you expect things like this. We welcome it a lot. It's a challenge from week to week."
Q: How has Mike Matthews made the transition to starter?

Malena:
"As the center you set the protections and tell the line where to go, and snap the ball. Since the spring he's been taking steps day-by-day and getting better day-by-day."
Q: Are the players aware of the history between A&M and Rice?

Malena:
"I'm pretty sure we all do (know), but this year we're just focusing on getting prepared for them. They have a good team coming off a five-game win streak and a good bowl win against Air Force. We just have to execute and do what our coaches tell us to do."
Q: What do running backs do besides running the ball?

Malena:
"Especially in this offense, we have to be able to protect the passer. That's one thing Coach McKinney really harps on us every day. Everybody can run the ball, that's what we got a scholarship to do. Doing things when you don't have the ball in your hands is really important, and I think Trey Williams and the guys are really picking up on the schemes well."
Q: How is the backup quarterback competition?

Malena:
"Both of those guys did really great things when they got their opportunities in practice. They're both smart guys and they've both made plays. It's been a good quarterback competition."
Q: What is the Matthews brothers' relationship like?

Malena:
"I'd say Mike is more rowdy and Jake is more quiet, but I'd say that (Mike) playing the position he does, being vocal helps him a lot. I'm excited to see him play."
Q: Could this be a special season for A&M?

Malena:
"As a whole, as a university, we understand that this could be a special season for us. But from a team aspect we just take care of one game. If you don't, the whole season aspect goes out the window."
Q: Are you looking forward to being the feature back this year?

Malena:
"For me personally, it's very exciting. But I just come out every day and practice and try to set the example and set the tempo for the younger guys and make sure we have everything we have to do, technique and execution-wise, to be on the same level."
Q: Are you trying to be a leader this year?

Malena:
"That's one of my main focused this year, to be a leader of this team. To lead by example and to be a vocal leader. With this conference, you need player leadership, and I think that's very important. 'I've taken really strong to that and tried to lead this team."
Q: How did you try to lead over the summer?

Malena:
"The offseason workouts, we don't have the leadership and the structure of the coaches, especially Coach Sumlin. Player leadership over the summer can lead you to great things; this summer, our leadership council really made it an issue to ensure that every guy was accountable for himself."
Q: Where has Trey Williams developed?

Malena:
"He's a tremendous talent. Tremendous talent. He has great speed, he's a very powerful runner for his size, and his maturity is one thing I've been really excited about coming off of his true freshman year. We're going to need Trey Williams, especially in kickoff return and playing running back for us. He's going to provide the spark we need."
Q: Who are some of the team's younger leaders?

Malena:
"We have two guys sitting over here in Julien Obioha and Mike Matthews. Those guys are coming into their sophomore season. Julien started all 13 games and Mike got snaps. Those two guys were in workouts every single day, giving 100 percent and making sure our teammates match their level of intensity."
Q: What kind of leader is Kevin Sumlin?

Malena:
"Kevin Sumlin is a great leader when it comes to steering this team to be on the right path and making sure we don't take anything for granted. Making sure we don't count the number of days — we make the days count."
Q: Is it easy to forget Johnny and Mike Evans are sophomores?

Malena:
"It is easy to forget, especially with the level of success they had. But when it comes to scheming, classification doesn't matter. We need all those guys to step up for this team."
Q: How comfortable would you be playing Rice without Manziel at QB?

Malena:
"We'd be really comfortable. We don't worry about that as a team. We go out there every day to prepare for our next opponent. Our next opponent is Rice; we're going to prepare as if he's our starting quarterback."
Mike Matthews
Q: How much did you benefit from playing as a freshman?

Matthews:
"I benefitted a lot because I got to travel and experience things, watch Pat on the field, saw how he handled things and got a taste of how the SEC is going to be this year."
Q: What was your first experience at A&M?

Matthews:
"Some of (Kevin)'s earlier games. But I'd say the first time I really experienced and it stuck with me, the 12th Mana nd how loud the crowd was, my sophomore year they were playing Texas and I heard how loud the crowd got. It gave me chills. My vision was shaking because of how loud it was. I knew deep down this was the place to be, the 12th Man, it was such a great experience."
Q: What's the hardest part of playing center in this offense?

Matthews:
"Probably just keeping the speed of the game up and being able to target the offensive line. The coahces are always getting on me, 'You've gotta go fast, you've gotta go fast.' When you run so fast, it almost makes it easier because the D-line gets so tired they're standing still and not moving around as much. Just keeping the speed up and having everyone on the same point."
Q: How much did you talk to Jake about potentially going pro?

Matthews:
"We honestly didn't really talk about it. I left it up to him, didn't tell him to stay. If he went I'd be happy for him. I know it's his dream to play in the NFL, just like mine, and I don't want to take that away from him. But when I heard he was staying I was happy because, in high school, when he was a senior and I was a sophomore, that was one of my favorite years of football ever. I'm excited."
Q: What does the Matthews family legacy mean to you?

Matthews:
"I want to follow in the footsteps. I'm doing everything I can, working hard. But it gets tough. It started off with my brother Kevin, then Jake set the bar higher, and I'm trying to follow in his footsteps, getting in the gym and working out and putting time in. It can get stressful, but it doesn't bother me too much. I just go out and play."
Q: What is you and Jake's relationship like?

Matthews:
"Just two brothers. We spend a lot of time together, he's like my best friend. We have almost the same schedule. Just go home, watch TV, hang around. Normal brother relationship. I don't know, I guess I am a little loud. I'm a little more talkative. He always tells me I'm annoying because I don't shut my mouth. I do a lot of talking. I get on the field and get going."
Q: How do you feel about the acclaim this O-line gets even with personnel losses?

Matthews:
"It kind of sets the ball for A&M. Seeing Luke go second overall, hopefully this year Jake will go first round, we have a lot of talent on the line. It's exciting to be a part of this offensive line."
Q: Is it hard to tell your big brother what to do?

Matthews:
"Eh... I do it anyway. Sometimes it gets a little weird. I call out the protection and I've got guys three years older than me and I'm telling them what to do."
Q: Do you and Jake talk football all the time?

Matthews:
"If we're watching football, yeah. When we get down time, no. We hang out but after practice, I'll have a bad practice and on the ride home we'll be talking. He's been in college longer than me and had talks with my dad and he'll pass that information on to me. He tells me and I take that on to the field the next day."
Q: Was center your natural position?

Matthews:
"I think center is most defeinitely my natural position. I'm not really a big guy. It adds to my game because I've got natural leverage being that much lower than them. I use to to my advantage."
Q: How much do things change if Johnny doesn't play?

Matthews:
"If he doesn't play ... the backup QBs, I believe in them. They come in every day and put the work in. I'm confident in the quarterbacks we have and if it turns out that he isn't able to play, I'll be confident in the quarterbacks we have."
Q: What have you seen from Joeckel and Hill?

Matthews:
"Matt's more of a pocket passer and Kenny, I didn't know what kind of quarterback he was. He got off to a slow start — in this offense you have to get it mentally, then physically. But he can scramble and run the ball. Matt is an older guy, 6-5, more of a pocket passer. I'm confident in both of them."
Q: Do you agree that the OL can be as good as last year?

Matthews:
"Absolutely. With Germain Ifedi at right guard, he's a big ol' dude. Cedric at right tackle, Jake at left, Jarvis sticking at left guard and me at center, we're athletic and I'm confident we can get the job done."
Julien Obioha
Q: How would you respond to people doubting the defense?

Obioha:
"Coach Price has an ESPN article on the front door of the D-line room that ranks the D-line as the worst in the SEC. Every single day we walk in the D-line room and get reminded that everyone thinks we're going to be the worst in the league. It's actually sparked us to work hard every day. Great teams start with defense and defense starts up front. It's a reminder to work hard and be a great D-line for our team so we can help our team win a championship."
Q: What did you learn from Damontre Moore?

Obioha:
"Damontre was a great playmaker. He stressed to me constantly to try and make plays instead of just doing my job. Try and make a play, change the game — like he always did. He always tried to make a play, whether he was running 60 yards down the field against MSU or stripping the ball against Arkansas. That's a role I've tried to develop this offseason."
Q: Who will make an impact on D this season?

Obioha:
"Kirby Ennis is probably — I want to say Kirby Ennis and I'm leaning toward Alonzo. Alonzo played a great Cotton Bowl and he's been doing great this offseason. Kirby has been doing great too. It's hard to pick between the two. The third is probably Gavin. All those guys are working so hard, putting time in and listening to everything Coach Price has been saying. It's hard to pick one guy."
Q: Do you attack filling the void as a group?

Obioha:
"We attack this as a group. There's no prominent leader on the defense this year, there's multiple leaders. Whether it's a sophomore or a senior who's played three years, we attack it as a group."
Q: What impact will the four freshmen DL have this year?

Obioha:
"They'll have a tremendous impact. They'll come in as backups and bring different talents that we don't have. We don't have a long, slender guy like Daeshon Hall. We're going to have a guy like that, a couple huge guys in the middle with Justin Manning and Isaiah Golden. They're going to bring different pieces to the table."
Q: How much do your responsibilities change switching to rush end?

Obioha:
"It's a lot more playing space, more dropping. I'll do a lot of different things in pas rushing, not just one stopping. I'll make more plays this year, and that's something I'd like to do, make more plays. It's actually an honor for them to let me play here."
Q: What will be the biggest change this season?

Obioha:
"The defensive line is doing a good job because people don't expect much from us. The D-line will do great and it won't be a surprise to us, but people at home will watch the Texas A&M D-line do great things and they'll be surprised."
Q: How excited are you to be the next pass-rush guy at A&M, with the legacy there?

Obioha:
"Obviously before Damontre there was Von Miller. There were two All-Americans that played in my spot. I'm not trying to replace All-Americans, I'm just trying to help my team win football games. If I can get All-American status doing that, that's great, but htat's not my goal. I'm trying to win football games."
Q: Were you ready to be in front of the media?

Obioha:
"That didn't come to mind. I've always been articulate, so speaking in front of a mike has never been a concern to me."
Q: How is practicing against this offense?

Obioha:
"Johnny Manziel is a very hard guy to tackle. You can look at game tape and tell that. Even getting within five yards of him is hard. Going against Jake and Ced, I think Ced will be a great right tackle for us. It's a luxury in practice to have probably the best tackles in the NCAA and know you don't have to see those guys on Saturday. It's great."
Toney Hurd
Q: Does your role change at all without Everett or Raven on Saturday?

Hurd:
"We'll have some young guys that have to step up. I'm pretty sure things will bounce back when they get back. We have some young guys now that have to prepare."
Q: What have you seen from Clay Honeycutt?

Hurd:
"Over the spring and fall he showed a lot of consistency. He's become one of the leaders of our secondary and been consistent in playmaking. The coaches have had a lot of confidence in him as of late."
Q: Can you talk about the importance of your role against a veteran team with young DBs preparing to play for A&M?

Hurd:
"Howard Matthews and I will have the young guys ready. We want to get off the field on third down. We want consistency not just on the back end but on defense (in general). Myself and Howard Matthews will work on that for sure."
Q: How important is veteran leadership with the off-field issues?

Hurd:
"I feel like the off-field issues, Coach Sumlin and the guys will handle it. But on the field guys are getting their mind right to make plays this weekend."
Q: How does the increase in attention make it feel?

Hurd:
"I feel like the team is embracing the media. The positive issues are great for our program and the negative stuff, the coaches are handling the right way. We love the positive attention. We're No. 6 but we're fighting to be No. 1."
Q: What have you seen from the backup QBs?

Hurd:
"All our quarterbacks prepare as if they're a starter. You never know, you're one play away. Joeckel and Hill have prepared and they've thrown some good balls and some bad, but they're ready to play. They prepare as if they're starters, as does everybody else on the team."
Q: What does Obioha mean to the team's leadership?

Hurd:
"He's a very, very smart guy. He's young in a sense but he's a mature guy. He's one of our veterans in our eyes. He'll be a leader for a D-line with a lot of pressure. He'll be a guy we count on to make plays for us this year. He's put himself in that position, for sure."
Q: Have you mentored the incoming DBs?

Hurd:
"I feel like all the younger DBs have really embraced Coach Yates this fall camp. All of us really give our time and dedication to the young guys because we want them to be as prepared as they can be."